EAGLE AND LAMB
The story of the only Australian captured by Japanese forces in Australia. During his imprisonment at the Japanese floatplane base at Dobo in the Aru Islands, Leonard Kentish suffered torture and starvation before being executed without trial on February 5th – A World War Two drama.
Buy Book ($44)
Cart & Checkout
An Australian's Story
Dive in the story right now.
Leonard Kentish, a civilian coastwatcher and missionary aged 35, stationed on isolated Goulburn Island just off the Arnhem Land coast, was the only Australian captured by Japanese forces in Australia during World War Two.
Buy Book ($45)
Meet the Characters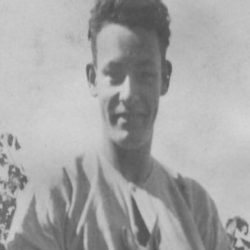 Leonard Kentish
Leonard Kentish excelled in athletics, scholarship and leadership while resident in King's College at the University of Queensland. In his final year in King's, he was elected Club President and appointed as tutor in Hebrew and Greek languges before graduating BA (hons)and BD. After a year posted to Townsville. he was transferred to Darwin in 1935. Then war intervened.
"By his breadth of vision he saw the whole world as a potential mission field; but by his intensity of purpose and concentration he brought his energy to bear on the problem nearest to hand. He was a cheerful soul and an attractive Christian (with) a fine sense of humour and by his good-will and Christlike friendliness, he effectively proclaimed the Gospel." The Missionary Review, December 1946, p. 15.
Violet Kentish
Violet Kentish (nee Simpson), a gifted and qualified musician (LTCL, A Mus A), met Len on a vacation visit to Woodford in August 1928. Her sister, Anne, who was with her, said that Vi was "well and truly smitten" when the couple first met. Len and Vi announced their engagement 4 months later and married in 1934. Their three children, Noel, Elaine and Claire, were all born in Darwin while the couple worked in the Northern Territory. Eagle and Lamb poignantly describes her desperate search for information of Len's whereabouts after his capture.
The Story
War Memoir
Based on a time when Australia was under threat of invasion.
Biography
Follows the lives of Len (1907-1943) and Violet (1902- 2002), from their courtship and marriage to their posting into an area that became a warzone.
War History
Based on real events in North Australia during the early 1940s, including two civilian evacuations Len Kentish facilitated and the final tragic voyage of HMAS Patricia Cam. (http://www.pastmasters.net/hmas-patricia-cam.html)